At Calvin Christian School we seek to nurture every student's spiritual growth, this begins at the elementary level and continues on through to the end of high school. We surround our students with talk of God's purpose for them, His love for all people, and His call for each of us to share His love with others. Aside from biblical instruction, we also participate in group worship on a regular basis. Whether that takes place in the classroom each morning, as part of Music class, or in a group assembly setting, students are encouraged in many ways to take part in these powerful experiences. We also seek out practical ways to be of service to our larger community, trusting that these activities become habits of service for our students as they grow in their faith.
Several times a month the elementary students gather together for singing and biblical input on a wide range of themes. This experience of singing with other children in a worship setting is a powerful way that our faith is strengthened. In addition to chapels, elementary students in every classroom participate in morning devotions as the day begins. Here each teacher leads their class in a time of reflecting on the many important aspects of our faith, often including times for prayer and worship singing.
Our collegiate students collectively participate in worship throughout the school year. Led by our student worship band, we praise our Heavenly Father through song and prepare to receive a spiritual message delivered by guest speakers and staff. Follow-up discussions related to chapel occur in Student Life Groups (SLGs) as we strive to implement God's word in our daily lives. Every morning, collegiate students meet in an SLG with the same teacher for the duration of the school year. During this time, students participate in devotions and prayer and homeroom type activities. They build relationships and prepare to tackle the day.
Director of Student Faith and Life
My name is Marcia Hamm, and I'm the Director of Student Faith and Life at the collegiate. I'm grateful to be part of this diverse community of educators, staff, and students, and my deep hope is that in this community, our students will understand and practice what it means to love God, and love others.
"I believe each student has a role to play in revealing God's goodness to our world, and they can only do that when they trust the unconditional love of God. Trusting God's love for ourselves and seeing God's image in others helps us to listen to each other and learn from each other. An important part of our role as Christian educators is to help students recognize God's love, and the gifts they've been given because of His love, and then support them as they practice sharing their gifts within their community."
We strive to integrate our faith into everything we do at Calvin Christian, through the small moments of the school day to school-wide celebrations. Short talks in the hallways, drop-in chats in offices and classrooms, our daily Student-Life-Group (SLG) meetings, and shared experiences in video chapels and in-person worship gatherings are some of the meaningful ways our students and staff connect and learn about God together. Service projects for all students throughout the year provide more opportunities to grow in our collective understanding of loving others, and what it means to be faithful followers of Christ. 
My prayer for our students comes from Ephesians 3:15, "I pray that out of his glorious riches he may strengthen you with power through his Spirit in your inner being, so that Christ may dwell in your hearts through faith. And I pray that you, being rooted and established in love, may have power, together with all the Lord's holy people, to grasp how wide and long and high and deep is the love of Christ, and to know this love that surpasses knowledge —that you may be filled to the measure of all the fullness of God." 
In Christ,
Marcia Hamm
A little bit about Marcia...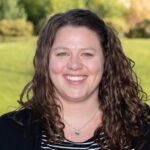 I grew up in a rural community, deeply involved in our local church and schools. After getting married in 2008, and graduating with my Bachelor of Education in 2009, my husband, Tim, and I settled in Winnipeg where I worked as a high school teacher in a Christian private school and he pastored at a local church. I was deeply involved in youth ministry during that time, and then while at home with our young children, I took various leadership roles in our weekly women's ministry.
In 2015, our family moved to Niverville, and we ended up working with our church to plant a location there, where I joined the staff as a worship coordinator. After 3 years leading that community, we stepped down and waited for God's guidance in our next steps. That season of challenging transition led me to Calvin Christian Collegiate, and deepened my trust in God's goodness. I'm so thankful for God's leading, and the ways He has demonstrated His love to myself and my family. Trusting His love made a way for us to use our gifts to love others in community, and I look forward to continuing to learn and grow as part of Calvin Christian!